Burn Information
2017 CONTROLLED BURN INFORMATION
The Clay Springs/ Pinedale Volunteer Fire District wishes to clarify the procedure for notifying officials regarding controlled fires and carrying out those burns.
The Arizona Department of Environmental Quality, ADEQ, through Arizona Administrative Code Title 18, Chapter 2, declares that all fires larger than three feet by three feet in area must have a permit approved by the ADEQ. This permit, which can cover a number of burn days, can be obtained by calling 1-928-337-3565, or contacting www.adeq.state.az.us/environ/air/permits/burnfm.html,
The ADEQ St. John's Community Liaison Office.
The ADEQ states that the "Authority Having Jurisdiction" is the local Fire Chief, and additional requirements may be requested by that authority. In this regard the Navajo County Sheriff's office will assist the Fire Department in protecting the district from the possibility of a "controlled" fire spreading and endangering life and property. This will be done by enforcing the requirements through the ticketing process.
Please refer to the attached circular for the requirements necessary before proceeding with controlled burning. Burning of debris or other fire without prior notification or burning during restricted times is not permitted. The Sheriff's Office may make arrests and/or cite offenders for failure to comply with open burning rules.
For additional information on fires, burning or regional information call *311, or
928-333-3412, or 928-245-1175 or go to http://www.311info.org/ or go to are web page www.clayspringspinedalefiredepartment.org If you light a fire be prepared to fight it!
Thank you for your help during this fire season,
Robert Garvin
Chief, Clay Springs/Pinedale Fire Department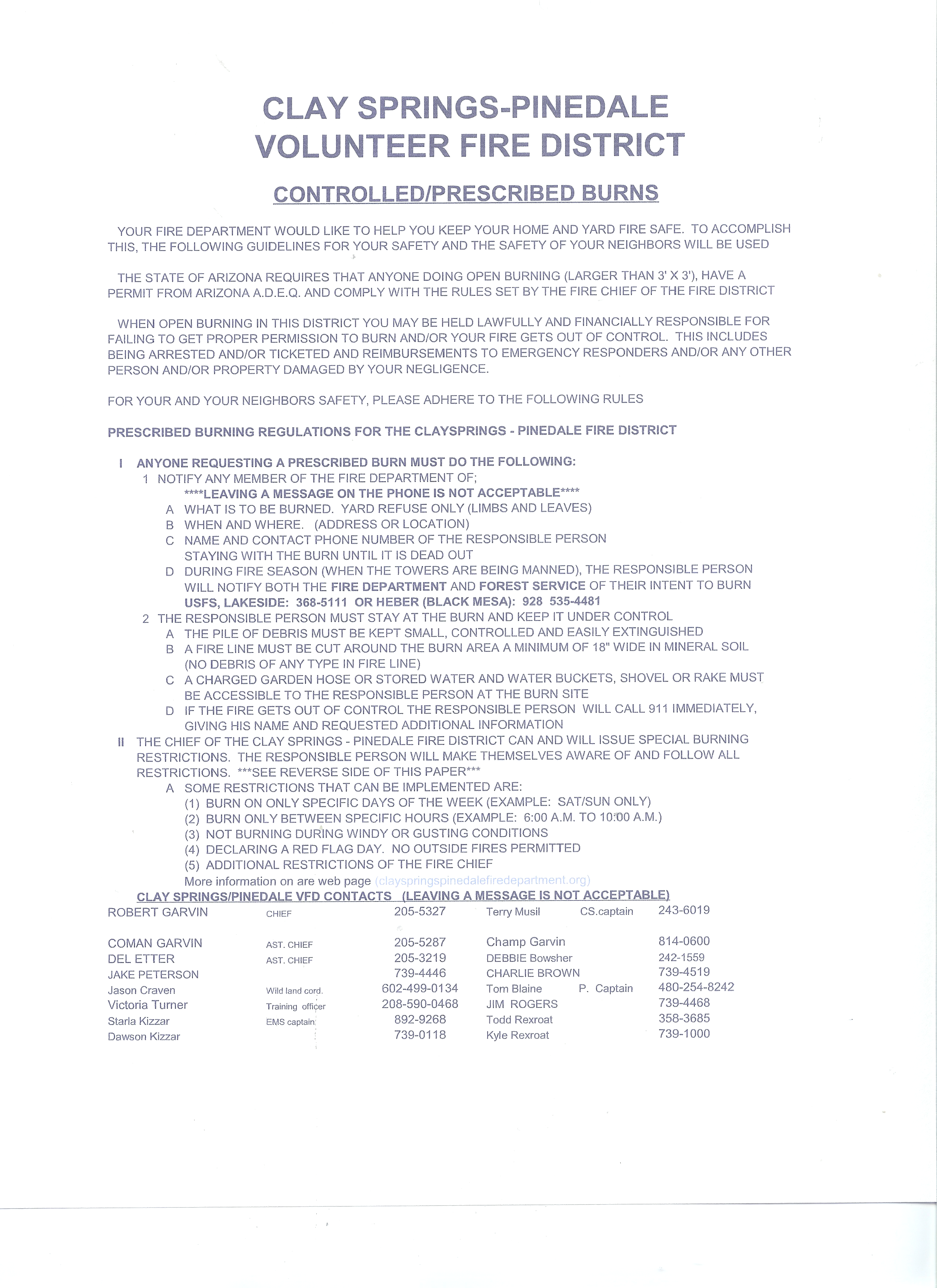 PLEASE SHARE A COPY WITH YOUR NEIGHBOR